Dandi Marchers' Sculptures Workshops II
December 7–22, 2013,
IIT Bombay
7 December 2013


Venue: IDC Auditorium
7 December, Saturday Inauguration Session
9:30–10:00 am Registration of Workshop Participants
Welcome 10:00–10:05 Prof BK Chakravarthy, Head, Industrial Design Centre
10:05–10:15 Prof HS Pandalai, Deputy Director, IIT Bombay
Dandi Memorial Project & IIT Bombay
10:15–11.00
Smt Radha Bhatt,
Chairperson, Gandhi Peace Foundation, New Delhi
The Idea of Satyagraha
A prominent Gandhian and one of the senior constructive workers of India, Sushri Radha Bhatt or Radha Behen is the chairperson of the Gandhi Peace Foundation. Referred to as the daughter of the Himalayas, she has made exemplary contribution to the Uttaranchal women's education and employment. Born in 1934, to a family of farmers in a remote village in the Himalayas, Radha Behen quit formal education after her intermediate and joined Sarla Behen at her Laxmi Ashram in Kausani, to undertake social work. From protesting against the plight of the uneducated women in the Uttaranchal to become one of the bestknown social and political activists in the country, that has been Radha Behen's journey over the past seventy odd years. Along the way, she has tackled alcoholism among men in Uttaranchal, the empowerment of women, the Chipko or the treehugging movement, open mining on the fragile Uttaranchal highlands, and has been part of the nationwide protest against big dams. Radha Behen has been honored with the Jamnalal Bajaj Award and the Indira Priyadarshini Environment Award.
---
9 December, Monday











Dandi March & Salt SatyagrahaShri Tushar Gandhi, Managing Trustee, Mahatma Gandhi Foundation
He is the great-grandson of Mahatma Gandhi and grandson of Manilal Gandhi. Raised in Mumbai, Tushar Gandhi is a trained artist and a socio-political activist. He is a Managing Trustee of Mahatma Gandhi Foundation, an organisation dedicated to Mahatma Gandhi and his message of non-violence. Tushar Gandhi entered Indian politics by joining the Samajwadi Party in 1988 and Indian National Congress in 1995. Other than politics, he is also known for his skills in writing and cooking. The latest book from Tushar Gandhi is titled "Let's Kill Gandhi".
Gandhiji, Titusji and Dandi March
Shri Thomas Titus, son of original Dandi marcher Shri Thevarthundiyil Titus
---
11 December, Wednesday










Mahadevbhai (1892-1942) – a play in English Performed and Produced by Jaimini Pathak
Written and Directed by Ramu Ramanathan
Mahadev Desai was Mahatma Gandhi's Secretary from 1917 to 1942, and was a key witness to the fight for freedom. During this period, Mahadevbhai maintained a daily diary.
Mahadevbhai (1892-1942) is a one-person play, which attempts to remind us of the times that were, and their devotion to truth. Written and directed by Ramu Ramanathan; produced and performed by Jaimini Pathak.
---
14 December, Saturday
Gandhi and His Vision of Swaraj












Shri Rajiv Vora, Chairman, Swaraj Peeth Trust
Rajiv Vora, writer, speaker and educator, is a preeminent interpreter of Gandhi's works and in particular his root text, Hind Swaraj. He was born into a Gandhian family in the Gujarat region of India and received his primary education in the alternative Gandhian residential rural schools. A scientist and keen student of Indian classical music, he earned his reputation as a writer, commentator, and public speaker. Rajiv Vora was one of the leading music critics in 1980s and 1990s. His column on culture of music appeared regularly in the Economic Times, Jansatta and Nav Bharat Times. He has lectured on Indian classical music and was invited as a consultant by the World Music Department of Rotterdam Music Conservatory, Rotterdam the Netherlands in 1993. He helped Rev. Musicologist and Tabala maestro Late Pandit Nikhil Ghosh plan Encyclopedia of Indian music, dance and drama at the Sangeet Mahabharati Mumbai (1971-73). He lived with and received lesion from Late Ustad Amir Khan, considered to be the one of the great musicians born in the history of Indian classical music (1971-73).
---
15 December, Sunday
Gandhi, Ahimsa & Social Justice
Prof Tara Sethia, Director, Ahimsa Centre; Professor, History Department,
California State Polytechnic University, USA
Tara Sethia is a professor of history and founding director of Ahimsa Center at California State Polytechnic University, Pomona, California. She has designed and established an interdisciplinary minor in Nonviolence Studies on her campus. Her course offerings include history of India, history of nonviolence, and history of women in South Asia. She also directs summer institutes for school teachers on Gandhi and other exemplars of nonviolence. She is the author of Gandhi, Pioneer of Nonviolent Social Change (Pearson, 2012); editor of Ahimsa, Ankara and Jainism (Motilal Banarsidass, 2004), and coeditor of and contributor to The Living Gandhi: Lessons for Our Times (Penguin, 2013). She received her Ph.D. in history from University of California, Los Angeles and her MA in history from University of Rajasthan, Jaipur.
---
21 December, Saturday
Satyagraha: Insistence on Truth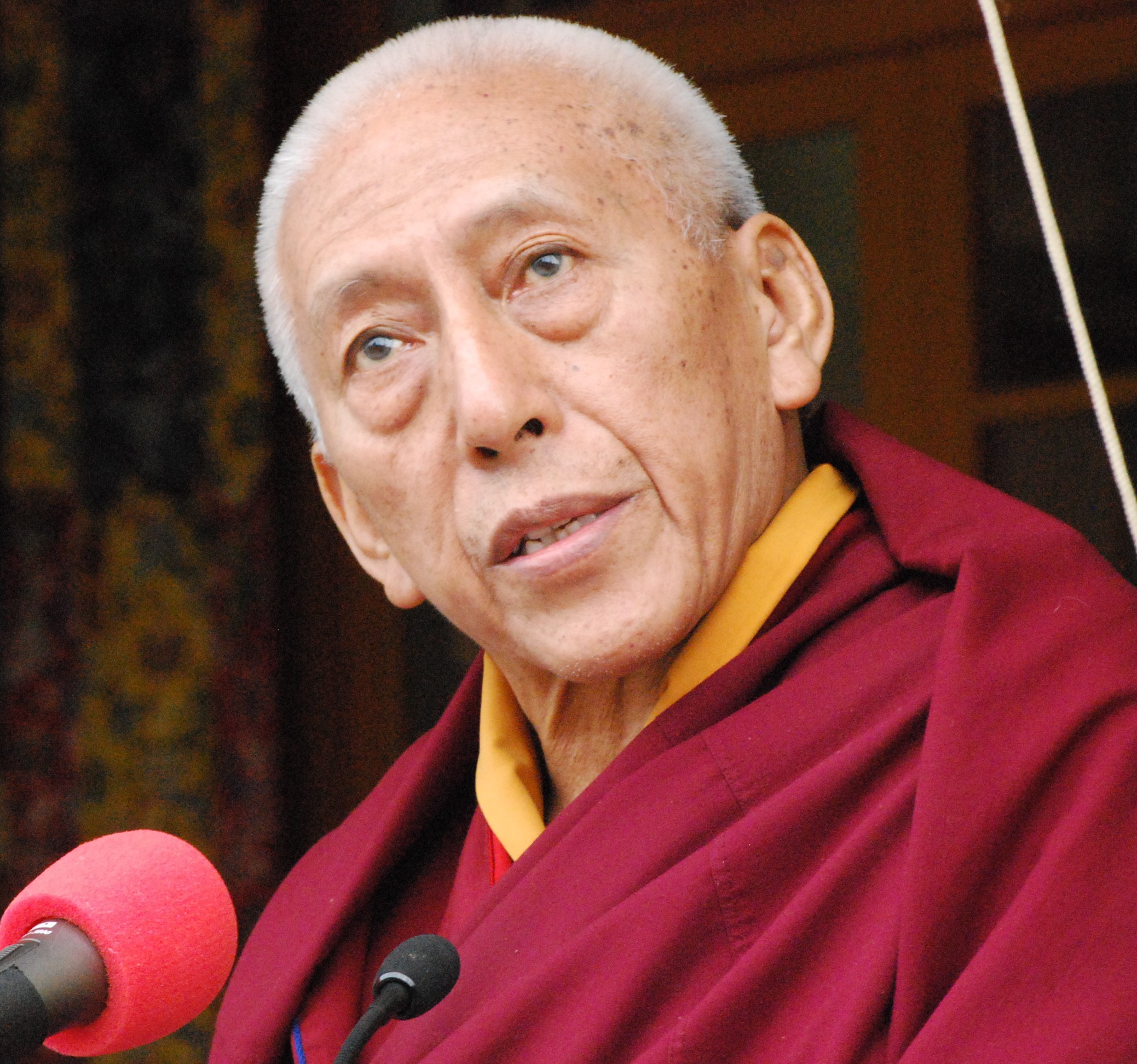 Ven Prof Samdhong Rinpoche, Former Prime Minister, Tibetan Government in Exile
Venerable Professor Samdhong Rinpoche was born as Samdhong Lobsang Tenzin in 1939, in the Tibetan province of Kham. At age five, he was recognized and enthroned as the reincarnation of the fourth Samdhong Rinpoche. He began his monastic studies at age 12 at the University of Drepung in Tibet and eventually obtained a Doctorate in Buddhist sciences at Gyutö Monastery, Dalhousie, India in 1970. In 1959, Rinpoche fled to India to escape the repressive Chinese government in Tibet. There, he was commissioned by His Holiness the Dalai Lama to serve as a teacher to monks in exile. He was appointed director of the Central Institute of Higher Tibetan Studies in Varanasi in 1988 and remained there until 2001. On July 29, 2001, Rinpoche was named Kalön Tripa, or Prime Minister of the Tibetan Exile Government, the first political leader to be directly elected by the people in exile. He is an eminent and distinguished scholar, teacher and philosopher, and a life-long campaigner for Gandhian principles especially that of non-violence or peaceful resistance.
---
22 December, Sunday
Valedictory Function
10:30–10:35 Prof BK Chakravarthy, Head, Industrial Design Centre
10:35–10:45 Prof Devang Khakhar, Director, IIT Bombay
10:45– 11:15 Ven Prof Samdhong Rinpoche, Former Prime Minister, Tibetan Government in Exile
11:15 – 11:30 Distribution of Certificates to
Participants and Resource Persons

19:00– 20:00 Closing Function
The March of the Satyagrahis 'Thayambaka', traditional drum performance from Kerala by Shri Dileep Sukapuram and team. Curated by Shri Ramachandran Keli.
Venue: PC Saxena Auditorium Lawns, IIT Bombay
---
Afternoon Movies
2:30–5:00 pm Venue: IDC Auditorium










8 December, Sunday Gandhi by Richard Attenborough
10 December, Monday Force More Powerful by Albert Einstein Institute
12 December, Thursday Mahatma by Vithalbhai Zaveri
13 December, Friday Gandhi: End of an Empire Salt: The Substance of Swaraj
17 December, Tuesday Eyes on the Prize: America's Civil Rights Years
---
2pm, 20 December, Friday












In Search of Gandhi Walk-through the Exhibition 'In Search of Gandhi' with the curator Shri Suresh Jayaram, Art Historian & Visual Artist
---



'My Life is My Message'
An exhibition compiled and designed by Prof Kirti K Trivedi for
Sabarmati Ashram, Ahmedabad. (Venue: IDC Exhibition Hall)
Display of '3-Dimensional Mandala', abstract paper art by Atsuro Seto, digital artist and
sculptor from Japan.
(Venue: IDC Auditorium Foyer)
---

Presentation by Participants
2:30–3:30pm Venue: IDC Auditorium
9, 11, 14, 15 December. Short Presentations by participants and resource persons
of 10 minutes duration each about their work. Six
presentations per session. Schedule to be announced.
---