Gandhi — India's greatest contribution to humanity after Buddha: Ven Prof Samdhong Rinpoche
(A report by yEldtho Mathew, December 21 & 22, 2013)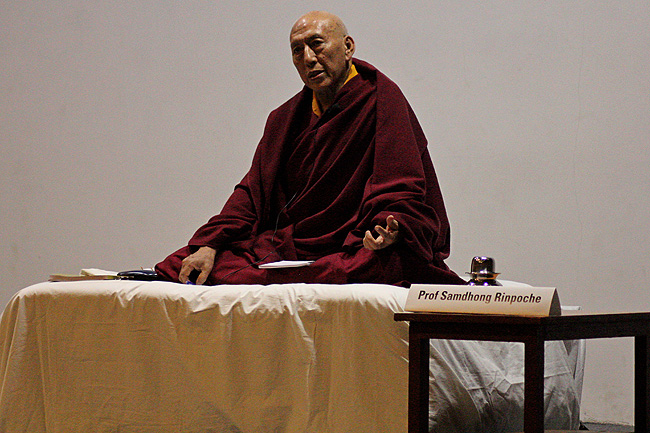 Venerable Prof Samdhong Rinpoche, Former Prime Minister of Tibetan Government in Exile delivers his lecture "Satyagraha, Insistence on Truth" at IIT Bombay during the Dandi Memorial Sculptures' Workshops on December 21, 2013. The Dandi Salt Satyagraha Memorial is a project of the Ministry of Culture, Government of India, advised by a High-Level Dandi Memorial Committee and coordinated and implemented by IIT Bombay in association with an international design team. More about Dandi Memorial Project: www.dandimemorial.org (Photos: Prayag Mukundan)

IIT Bombay: This was the last of the lecture series organised during the Dandi Marchers' Sculptures Workshops held in IIT Bombay. This report covers two talks by Ven Prof Samdhong Rinpoche delivered on 21-22 December 2013, during the concluding ceremonies of the Dandi Marchers' Sculptures Workshops.

Prof Kirti Trivedi, Convener, Dandi Memorial Project, IIT Bombay, formally introduced the acclaimed speaker and distinguished guests. Prof Devang Khakhar, Chairman, IIT Bombay chaired the meeting and Prof Juzer Vasi, Convener, Institute Dandi Memorial Project Committee offered the Welcome Speech. While delivering the welcome speech, Prof Vasi gave a brief introduction about Ven Prof Samdhong Rincpoche emphasising that it is a blessing for all to have him for the concluding ceremonies. Prof Khakhar in his address expressed his gratification for the distinction enjoyed by IIT Bombay of being selected as the Nodal Agency for coordinating the project. He also shared that the project has personally benefited the faculty and students of IIT who got to see and be a part of the immortalisation of a great movement taking shape within the campus.

The audience consisted mainly of Dandi Memorial Sculptors and artists from different parts of the country and abroad. There were several others from different walks of life.
After the formal welcome and introduction, Prof Samdhong Rinpoche began his speech, and his opening remarks revealed his unassuming modesty and humility, qualities that are rare among the accomplished. He is an authority on Gandhian Philosophy and Satyagraha; he is a staunch, dedicated Gandhian; he held fast to non-violence in the Tibetan Struggle: yet he stated that he does not qualify to speak anything about Gandhiji or Satyagraha! And, when he spoke, the audience was pinned to his words in complete silence and attention, and was wonderstruck at the depth and breadth of his knowledge about Gandhian thoughts and ideology. The session lasted for exactly one hour followed by 55 minutes of Q&A session, which showed how much he valued time and punctuality, as a true and disciplined Gandhian. Accustomed only to the non-stop bellowing and noise pollution by the present day political speeches, his lecture on "Satyagraha, Insistence on Truth" was truly a refreshingly new experience to the audience at IIT Bombay.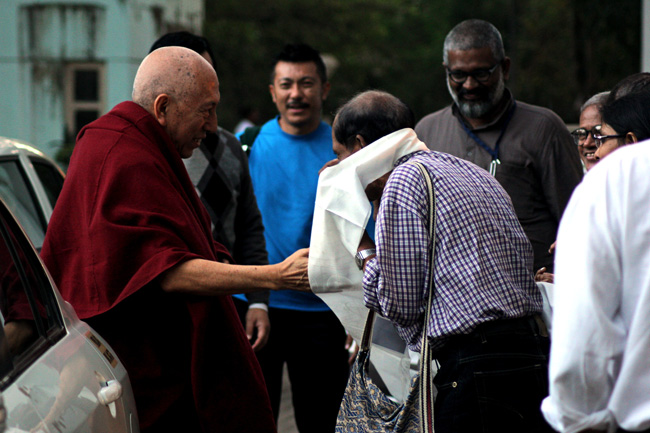 (Above) Venerable Prof Samdhong Rinpoche received by IIT Bombay officials, Dandi Workshop participants and Friends of Tibet Campaigners at IIT Powai campus on December 20, 2013. He was on a three-day visit to the campus in connection with the Dandi Memorial Sculptures' Workshops organised by IIT Bombay.
(Below) Venerable Prof Samdhong Rinpoche, Former Prime Minister of Tibetan Government in Exile examines life-size sculptures of 1930 Salt Satyagrahis made by Sculptors from India and abroad. yEeldtho Mathew, Founding Member of Friends of Tibet Foundation for the Wellbeing and Sethu Das, Coordinator, Dandi Memorial Project next to him. Prof Rinpoche observed that "these sculptures are not mere works of art alone, they are more of an expression of gratitude to the Mahatma and the unsung heroes of Dandi Salt Satyagraha."
Prof Rinpoche expressed his gratitude for being invited to the great event. He congratulated all the agencies concerned, especially the IITB team, who worked behind the Dandi Memorial Project.
Prof Rinpoche said that the village where the Salt March concluded still retains its innocence. He hoped that this innocence will not be destroyed by the so-called 'developments' as is happening in the rest of the country. Gandhiji had a great vision about governance which he termed 'Gram Swaraj'. Prof Rinpoche suggested that the Dandi village should be adopted to implement his Gram Swaraj concept to complement the ongoing projects and which will be the greatest cultural monument possible for a person who discovered and declared that India lives in its villages.
During his lecture, Prof Rinpoche talked about the origin of the principles of Non-violence and Satyagraha; how Gandhiji brought these into a physical domain and shaped these as powerful weapons in political struggle; why Gandhiji stood different among all the Satyagrahis of all times; among the Satyagraha movements, why few failed and many met success; how non-violence is different from non-reacting; what is the significance of non-violence and Satyagraha in today's conflicts-ridden world; so on and so forth.
After examining the life-size sculptures of Salt Satyagrahis made by Sculptors from India and abroad, he observed that "these sculptures are not mere works of art alone; they are more of an expression of gratitude to the Mahatma and the unsung heroes of Dandi Salt Satyagraha." He also commented that "the statues though put together give an impression of uniformity, individually they are unique and different from one another, as each one reflected the artist's unique style and the cultural trait. This was symbolising Gandhiji's uncommon skill of binding divergent and sometimes even opposing personalities together, while leading the freedom struggle." He commended all the sculptors and artists from India and abroad for the marvelous work they did.
While concluding he exhorted all to do one's own little bit to guard the flame of truth and non-violence in their sphere of activity. Prof Rinpoche believes that drop by drop, bit by bit, a transformation is possible in the world, this ailing world. He invited the audience to look at the paradox that while the West is studying Gandhiji and looking to him for answers to many of their problems, at home front, to our shame, he seems to have been pushed into oblivion.
Venerable Prof Samdhong Rinpoche visiting Dandi Memorial Sculptures Workshop venue at IIT Bombay to examine sculptures of 1930 Salt Satyagrahis made by Sculptors from India and abroad. He thanked everyone involved in this project and stated that they are fulfilling a great responsibility of the Nation — to give deserving recognition to the Salt Satyagraha and the sacrifices of the unsung heroes.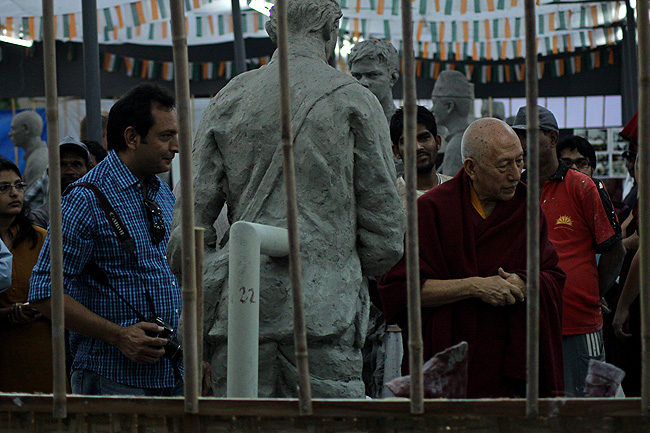 Such a profound speech by an accomplished Gandhian who thinks, acts, speaks and breathes non-violence, was obvious to evoke curiosity among the audience to know more. There were several questions which indicated that people are indeed concerned about the chaos in the society and that they are looking for a refuge, an ideology, which can bring in permanent positive changes. Prof Rinpoche addressed all the questions and explained the solutions in a Gandhian perspective.
With the profoundness of Prof Rinpoche's words still echoing within, the audience left the auditorium — some contented and thankful for the evening; some with determination to know more about Gandhian philosophy and ideology; some with the resoluteness to bring out the Gandhi that is within them to their actions.
Were there any disappointed faces? Yes, at least one — I, who wanted to hear more from the man of wisdom.
Excerpts from Venerable Prof Samdhong Rinpoche's Talk
Dandi Memorial ProjectThe agencies involved in this project are fulfilling a great responsibility of the Nation — to give deserving recognition to the Salt Satyagraha and the sacrifices of the unsung heroes.
Human beings need visual things to touch their mind. Formless communication or interaction is almost impossible. The modernity has taken away our sensitivity and debilitated our capacity to feel and hence physical symbols are very much important. The Dandi Memorial Project will help our coming generations to learn about the Freedom Struggle. Dandi Memorial Project will be an exceptional physical monument. However there could be cultural monuments as well. Gandhiji discovered and proclaimed that India lives in its villages. Dandi village has its innocence still intact. It is not yet afflicted by the so-called 'development' virus. We should do everything possible to guard its chastity. One way is to adopt it to implement 'Gram Swaraj' concept, Gandhiji's own model for governance. If this could happen, it will greatly complement the ongoing Dandi Memorial Project and will be the most meaningful cultural monument of Gandhiji.
What makes Gandhiji unique in the domain of non-violence and Satyagraha
Gandhiji himself admitted that the concept of Satyagraha and non-violence were neither new nor he was a pioneer. 'They are as old as the hills' — he stated. Non-violence was advocated in India 2500 years ago by Buddha and Mahavira. Sidhartha who later became Buddha, the enlightened one, undertook Satyagraha to find out sustainable solutions to the miseries and pain. In similar fashion, Jainism too employed Satyagraha as a means of achieving freedom in the spiritual realm. Here Mahatma Gandhi stands uniquely different. He employed Satyagraha and non-violence in more mundane and practical issues. Gandhiji brought Satyagraha to a physical domain. He shaped Satyagraha into a powerful weapon against oppression, injustice and slavery. This makes him different and widely revered.
Application of non-violence in political issues
Gandhiji showed the world that Satyagraha and non-violence can be powerful weapons, so powerful that it can render the conventional weapons useless. Many world leaders were inspired by Gandhiji. Martin Luther King Jr, Nelson Mandela, etc are examples of leaders who were inspired and who stuck to non-violent means in their struggles. HH the Dalai Lama has been leading the Tibetan people along the non-violent path for their dignified existence since the time when Peoples Republic of China occupied Tibet in 1959. Three generations of Tibetan people are committed to non-violence, influenced by Gandhiji. We therefore think that it is India's greatest contribution to humanity that after Buddha, India produced a great son — Mahatma Gandhi, who taught the world how to resist injustice using non-violence.
Satyagraha (Truth Insistence)
Before Gandhiji formulated Satyagraha in the modern sense, there used to be 'Passive Resistance' which in appearance looked similar to Satyagraha. When you are hit, you don't hit back. For an observer you are a non-violent person. But it is not Satyagraha or non-violence if there was the urge to hit back, but you restrained yourself. In such a case, there is hate. The basic principle of Satyagraha is that hate can't be eliminated by counter hate; but through love and compassion. Whatever the cause of the problem, can be eliminated only by a means which is opposite in nature. Just like fire is extinguished by water, violence can be eliminated only by non-violence.
In passive resistance, this element is generally dormant, therefore, at times turn violent. Even during some of the Satyagraha movements launched by Gandhiji, true non-violence was not practiced by the satyagrahis and he had to stop the movement midway. His fellow leaders and followers were baffled that sometimes he called off the movement when the momentum was at its peak and the goal was about to be reached. Gandhiji called off such movements when he saw that there is violence involved and he was not ready for any compromise on his principles on non-violence. Where any other leader would have ignored minor deviations in the principles of non-violence if it would fetch their goal quicker, Gandhiji was unfaltering in his principle so much so that he even forsook imminent success to guard Truth and Non-violence. For Gandhiji, Truth was paramount.
According to Buddhist view of Truth, there is Ultimate Truth and Relative Truth. Ultimate Truth is transcendental and can not be applied on sentient beings. So far as human beings are concerned, when we say truth, it means only Relative truth. To identify truth or untruth is difficult. A Satyagraha must be based only on truth. Gandhiji said Truth and non-violence are two sides of the same coin. Since truth and non-violence are so interconnected, by practicing non-violence, truth will be revealed. Both these nurture one another and one can get glimpses of truth.
Salt Satyagraha — a Satyagraha in true sense
Before commencing the Satyagraha, Gandhiji remained silent for several weeks, in deep meditation. He was asked by many why there is no action though he was authorised to launch and lead an agitation. He was waiting for the inner voice, meanwhile entreating British Government, and allowing it time, to consider the demand for repeal of Salt Tax. When the Government did not concede, and when he had his inner voice, the Satyagraha was launched and the Dandi March began. He personally selected 80 marchers to accompany him; together they represented the diversity of the country — of different age groups, of different faiths, from all parts of the country, of diverse walks of life, etc. But no woman was included in the March. Gandhiji wanted that the opponent should not be given any excuse for not committing violence on the Satyagrahis. Though only 80 were officially selected for the March, thousands and thousands of people thronged around and followed him in the great March. One drop, few drops, a stream, a rivulet, a river, and finally into an ocean it grew, to meet at the shores of
Arabian Ocean to defy the strongest empire, with a pinch of salt.
For many, including some top rung leaders, it was unimaginable that a pinch of salt could shake the foundations of a great empire. Yet it happened at Dandi, a remote village near Surat, Gujarat, India. Why the Salt Satyagraha succeeded? It was one movement where none of the principles of the Satyagraha as defined by Gandhiji was broken. No violence at all from the Satyagrahis despite brute physical assaults by the opponents.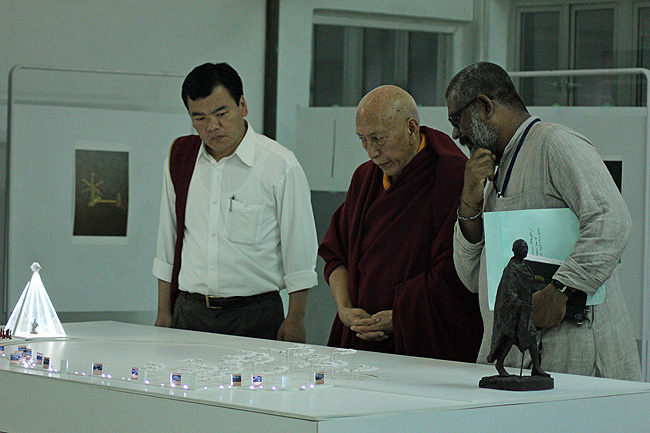 (Above) Venerable Prof Samdhong Rinpoche is being briefed about Dandi Memorial Project by Sethu Das, Project Coordinator during his three-day long visit to IIT Bombay campus during the Dandi Memorial Sculptures' Workshops organised by IIT Bombay. Tenzin Dhonyoe, Personal Secretary to Prof Rinpoche next to them. Prof Rinpoche urged the project team members to make Dandi Memorial Project a meaningful cultural monument of Gandhi and his Satyagrahis.
(Below) Atsuro Seto (Left), one of the Dandi Memorial Sculptors from Japan explains his 3D Mandala installation to Venerable Prof Samdhong Rinpoche, Former Prime Minister of Tibetan Government in Exile during his visit to IIT Bombay on December 22, 2013. Yeldtho Mathew and Rashmi Sidharthan of Friends of Tibet Foundation for the Wellbeing and Tenzin Dhonyoe, Personal Secretary to Prof Rinpoche next to him. Prof Samdhong Rinpoche was on a three-day visit to the campus in in connection with the Dandi Memorial Sculptures' Workshops organised by IITB.
Current times — relevance of Satyagraha
Modern society is shaped through the modern education. Modern education encourages competition. Since everything and everyone is interrelated they have to be free from competition and violence. A potent seed, water and soil cooperate between them: a sapling is the result. Any competition among them would not have brought that beautiful life to surface. Class struggles can not put an end to any class. Rather, class cooperation can take them higher. Violence, a derivative of competitiveness, can never give positive results. Violence destroys the doer much before it affects the prey.
Science and technology claim that they are discovering newer peaks daily. The science and technology might have changed the way of life for millions on this globe, whether positive or otherwise — cannot say. But the Humanity did not gain. Whenever the technology advanced, violence too increased.
Particularly now, war and violence has become a trade, a profitable one for few big players. Terrorism is a very profitable business. Sell more weapons to the terrorists and then sell even more to contain terrorism.
Challenges due to technological advancement
Entire Humanity is passing through a challenging period. Humanity today is facing the challenges of complete annihilation. Some of the challenges are apparent and some are less so. The major challenges I identify are:
(a) Increasing gap between the Haves and Have Nots
(b) Globalisation of resources by consumerist market forces
(c) Population Explosion leading to reduction of per capita resource availability
(d) Destruction of the ecosystem.
All these are attributable to the modernity and technological advancement. Modernity believes in competition and not on cooperation. Competition gives rise to corruption, intolerance, violence, war, weapon, etc. It is heard that there are enough nuclear weapons in the world to destroy this earth 36 times over! Advancement of technology greatly destroyed the eco-system. Himalayan glaciers are melting and the rate of melting is increasing exponentially. With the rate of global warming, in 40-50 years the climate will be beyond human tolerance. Many countries will be submerged in sea.
Life without compromise
Many people question whether it is possible to live without the technology. Gandhiji is greatly misunderstood by many that he was blindly against technology. But the fact is that he was a critic not of the technology in itself, but the immorality behind it. Anything that is non-moral and immoral should be given up. Consequentially, since the modern technologies and modernity do not have anything to offer to elevate the human kind in terms of morality, but rather, is degrading it, they are to be disowned. But people are accustomed to the comforts offered by the technology and they feel that one has to compromise a little bit here and there in their ideologies. Now the question is which is important? Your ideals or your comfort-filled survival? If the ideology is important, then there is no scope for any compromise for survival.
Why to survive at all if to compromise on the ideology?
What we may
Martin Luther King Jr said, "Today the choice is not between violence and non-violence. The choice is between non-violence and non-existence". There is so much pollution in material and spiritual sense, now there is only such a choice available to us. We are fortunate that we need not re-invent the wheel. Gandhiji had already walked ahead of us; we need only to follow his steps. We just have to learn the ways to become Satyagrahis. The essence of Gandhiji's philosophy is contained in the little book called Hind Swaraj written in 1909. It is more relevant now than ever. 104 years ago, he could foresee what is now happening to the world. It will profit any aspiring satyagrahi to read this little book to understand Gandhiji.
We need more Satyagrahis today than at Gandhiji's time. But it is hard to cultivate oneself into a Satyagrahi. One has to give up modernity and the evils of modern civilisation. Modern education and modern civilisation has to be approached cautiously as they are destroying the human sensitivity through the spirit of competition. Instead we should look for alternate ways where cooperation and co-existence are advocated.
The appeal to all who believe Gandhi's teachings and trying to live according his principles is that they should create more awareness about Gandhiji among the populace. It is imperative because what is waiting for us is a complete deterioration and destruction of environment and the mounting gap between the haves and the have nots. Since violence to nature is violence to all living things, younger generation who wish to enjoy their full life should think seriously how to save Earth.
Gandhiji is an answer to all these problems.
Questions
Q: Truth is highly disguised now a days. How does one go about insistence on truth in this condition?
A: It is due to the conditioning of mind. Our mind is not conditioned to see the truth. Even if we see it, we cannot admit it. This is the evil side of modernity. Such conditioning is largely due to the so called modern education. There are so many external forces of modernity to stimulate greed and then ride on it. We have completely lost recognition of ourselves. We are conditioned to find our identity in comparison with others which leads to competition. Truth then eludes us, and also our power of discrimination between what is and what is not. Unless and until we see the demerits of modernity and discard it, and go back to one's own naturalness and tune the life style accordingly, we will not be able to see things as they are. There are no readymade solutions to problems. Lead a life on the basis of needs and say no to greed; answers will come of its own accord. We are no longer 'users'; we are made 'consumers'. To be a user is not violent as it is based on one's needs. To be a consumer means taking someone else's share, taking more than what is actually required, which according to Gandhiji is stealing. There is untruth in greed and therefore, a consumer perpetually remains in a violent state of being.
There is no short cut to Truth. We need to find it out through painful, conscious efforts. We can go about insistence on Truth by learning from the life of Mahatma. 'My life is my message', he said. Can we lead a life based on needs and say no to greed? Question yourself: is your life your message? How good is then your message? If it is good, tread on, if not, correct the course.
(Above) Prof Kirti Trivedi, Convener of Dandi Memorial Project introduces Venerable Prof Samdhong Rinpoche, Former Prime Minister of Tibetan Government in Exile to the gathering at IIT Bombay during the Dandi Marchers' Sculptures Workshop II on December 21, 2013.
(Below) Venerable Prof Samdhong Rinpoche, Former Prime Minister of Tibetan Government in Exile appreciates the replica of Dandi Gandhi statue by Shri Sadashiv Sathe, during the Dandi Marchers' Sculptures Workshop II Lecture on December 21, 2013 at IIT Bombay.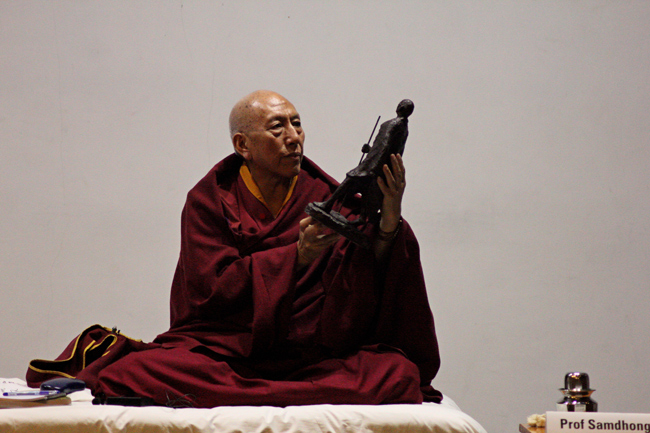 Q: Gandhiji used the word 'civilisation' to mean 'evilisation'. Rather than blanket-negation of modernity, modern civilisation and modern education, shall we not welcome the positive changes they brought in? Even when thriving in the modernity and modern civilisation, we can see positive evolutions in the world. America, a country which used to indulge in barbarous acts like slavery, oppression and brutality against the Black, has now come to recognise a descendant of the victims of such barbarous acts as its leader. Is this not something of a correct consciousness evolving?
A: It is uncomfortable to brand all the modernity as evil. But, after reading Gandhiji's Hind Swaraj, writings by contemporary critics of modernity like Prof Saran, Kumaraswamy, Dharampal and many others, our conviction will lead us to complete negation of modernity. I do not deny the possibility of evolution of individual consciousness. I do not however see any such evolution in the collective consciousness of the nations. For example, consumerism and greed are the key elements in modern way of life. They are aware of the adverse impact of such life style on the environment. However, the so called modern countries, the developed nations, are not willing to change their way of life to bring down the impact. Instead, the responsibility is forced on the developing and third world countries. So there has not been much evolution of the collective consciousness. A descendant of once oppressed race becoming the leader is fine. But if he too carries on with the legacy of war and violence, I do not see any evolution. However, if the descendant of the once oppressed race takes over the reign and declares no war and no weapons, then I will call it a positive evolution.
Q: What about the discord among religions?
A: There can not be any discord between any religions. But what we mean today by 'religion' is not actually what was originally meant by the word. There are three aspects related to religion — Religiousness, Religiosity and Religionism. Today Religiousness is almost vanished fully. Religiosity is partly remaining. Religionism is fully active. It is the Religionism that is the root cause of discord between people of different faiths.
[Religiousness refers to the spiritual content of the religion. Religiosity hints the ritual aspect and Religionism is only a matter of identity and has nothing really to do with religion]
Q: How do you see Tibetan struggle in the back drop of India's struggle for Independence with the emphasis on 'Satyagraha' and non-violence?
A: The situations are different. In Tibet, not more than three people can gather together. The communication is highly controlled. It is unimaginable to execute anything similar to Salt March or Satyagraha in Tibet. About 122 people have given up their lives through self-immolation, in their struggle for dignified existence as Tibetan people. This was their ultimate sacrifice — a non-violent act for their motherland.
Q: What is your opinion about the need for a new educational system?
A: It is a must if we wish not to lose our sensitivity. But for that, there has to be a Ministry of 'Education' rather than a Ministry of HRD.
(This report is prepared by yEldtho Mathew, a Swarajist and one of the Founding Members of Friends of Tibet Foundation for the Wellbeing. He was a Volunteer for the Dandi Memorial Project. Yeldtho can be reached at yeldtho.mathew@friendsoftibet.org and yeldtho4swaraj@gmail.com)
. . . . . . . . . . . . . . . . . . . . . . . . . .